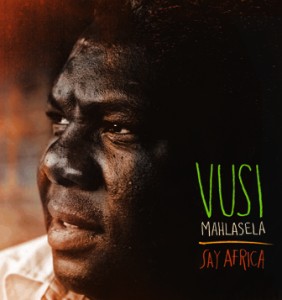 Vusi Mahlasela's "Say Africa" Out Now!
Vusi Mahlasela's lastest studio effort is now available everywhere.
Order the album from Vusi's official store and mix it with some cool swag or download from iTunes here
Vusi, who is simply known as "The Voice" in his native South Africa, conveys a strong message of hope in his new album not only for his home country, but for the entire continent.  Produced by legendary bluesman Taj Mahal, Say Africa fuses folk, world, blues and soul music.  "I've seen him perform around the world and he never fails to connect with sparkling results and joyous energy," notes Mahal. "Vusi is quite possibly the warmest African artist to be writing, singing and performing on the international music scene today!"
The Los Angeles Times said, "His performances are optimistic and soulful, delivered with an intensity that captures the attention and embraces the heart."

Be sure not to miss this inspirational album!
VUSI MAHLASELA – 2011 U.S. TOUR WITH AMOS LEE
Date City/State Venue
1/20            Seattle, WA                            Moore Theater
1/21            Portland, OR                          Crystal Ballroom
1/22            Eugene, OR                           McDonald Theater
1/24            Chico, CA                               El Rey
1/25            San Francisco, CA               Fillmore
1/27             Los Angeles, CA                  Music Box
1/28            Anaheim, CA                         House of Blues
1/29            San Diego, CA                      House of Blues
1/30             Tucson, AZ                            Rialto Theatre
2/1            Salt Lake City, UT                   The Depot
2/3            Beaver Creek, CO                   Vilar Center
2/4             Aspen, CO                               Belly Up
2/5             Boulder, CO                            Boulder Theatre
2/7             Lawrence, KS                         Liberty Hall
2/9            Tulsa, OK                                 Cains
2/10            Dallas, TX                              House of Blues
2/11            Austin, TX                               Paramount
2/12            Houston, TX                           House of Blues