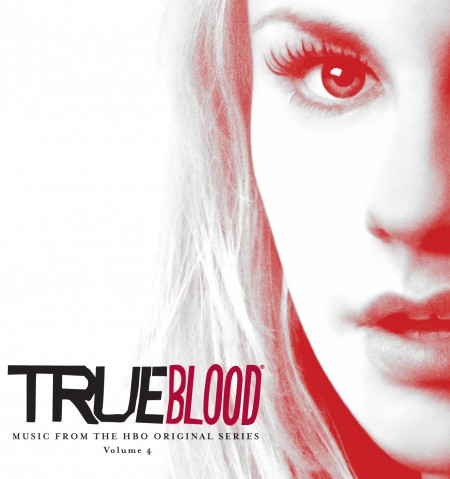 True Blood Vol. 4 Soundtrack Out Now
Following on the heels of its three previously Grammy-nominated volumes, the Volume 4 soundtrack of the acclaimed HBO® original series True Blood is now available everywhere, just one week after True Blood®: The Complete Fifth Season was released on DVD.
 iTunes / Amazon / HBO True Blood Online Store
True Blood: Music From The HBO Original Series Volume 4 is once again produced by the show's music supervisor Gary Calamar, who continues the True Blood soundtrack tradition of uniting legendary rock hall of famers with indie darlings such as Iggy Pop with Bethany Cosentino and Eric Burdon with Jenny Lewis.  Other never before released tracks include noted artists Alabama Shakes, Bosco Delrey, My Morning Jacket, Mobley, Deap Vally and Los Lobos, as well as a rare, out of print song by The Flaming Lips.  For the first time ever the soundtrack will also be available on vinyl, to be released mid-June.
Calamar carefully selects a musical tone for each episode; the fifth season's debut "Turn! Turn! Turn!" featured My Morning Jacket's cover of the classic tune by The Byrds, and after "Let's Boot and Rally" became an episode title, Iggy and Bethany came on board to duet the punk rock duet song of the same name. Fans should lend an ear to season six as well, for three songs on the Volume 4 soundtrack will also be featured in upcoming episodes.
In anticipation of the May 28th release of True Blood® Music From The HBO Original Series Volume 4, we are thrilled to share the new version of "Don't Let Me Be Misunderstood" (Property of E Records and ABKCO Records) by Eric Burdon with Jenny Lewis. Transformed into a sultry duet, Burdon with Lewis has resurrected the classic blues-rock song originally popularized by Eric Burdon and The Animals in the late sixties.  Burdon and Lewis's call and response approach, enhanced by their seductively intertwining vocal styles, lend a noir-esque feel to the track.
True Blood is centered in the fictional town of Bon Temps, Louisiana and follows the romance between waitress Sookie Stackhouse (played by Anna Paquin), who can read minds, and 173-year-old vampire Bill Compton (played by Stephen Moyer). Alan Ball (creator of the Emmy®-winning HBO series Six Feet Under) is creator and executive producer the show, which is based on the best-selling Sookie Stackhouse novels by Charlaine Harris. The highly anticipated sixth season premiere debuts on June 16th and runs through September.
Track Listing
1. Don't Let Me Be Misunderstood – Eric Burdon with Jenny Lewis
2. Let's Boot and Rally – Iggy Pop with Bethany Cosentino
3. What Makes A Good Man? The Heavy
4. Smokestack Lightnin' – Howlin' Wolf
5. Pocket Change – Alabama Shakes
6. Authority Song – Bosco Delrey
7. Turn Turn Turn – My Morning Jacket
8. Your Face Can Tell The Future – The Flaming Lips
9. The Sun – The Naked and Famous
10. Undertow – Warpaint
11. I Wanna Be Your Man – Mobley
12. (She's A) Wanderer – Deap Vally
13. Whatever I Am, You Made Me – Koko Taylor
14. We'll Meet Again – Los Lobos