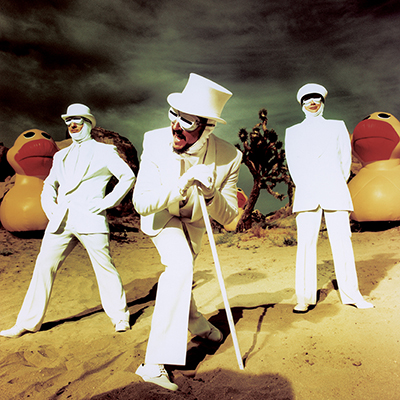 "The Most Disturbing Interpretation of Willy Wonka Ever" – Out Now
Earlier today, io9.com premiered the new video from Primus for "Pure Imagination", calling Primus & The Chocolate Factory "The Most Disturbing Interpretation of Willy Wonka ever".
 Primus & The Chocolate Factory with the Fungi Ensemble is Available Now
Available now on iTunes, Amazon, Primus' Official Store, or from your local record store (CD or Vinyl)
"The idea was to combine the Frog Brigade and Primus, and do this record,' says Claypool. I think like a good portion of the planet, we were all pretty put off by the remake of the 'Willy Wonka' movie – the Tim Burton version. I really wanted to pay homage to a film [1971's 'Willy Wonka & the Chocolate Factory,' starring Gene Wilder] that was very important to me as a kid and very influential to me musically. So that's what we did. And as opposed to just going in and recording the songs and playing them the way they are in the film, we twisted them up a bit…twisted them up a lot."
It felt so good, in fact, that he decided to take Primus into the studio to prepare the soundtrack for an album release. Claypool admits that he's always, "in some way, wanted to be Willy Wonka," and, also, that he's always wanted to work a cover of "The Candyman" — a memorable number from the film's soundtrack — into Primus sets.
"Our project is an homage to Gene Wilder and David L. Wolper's, Willy Wonka and the Chocolate Factory and the effect it had on me in my youth," spouts Les, plus to top it off, it gives me an excuse to wear a purple, velvet waistcoat and brown top hat for the next 18 months."
Primus is currently touring "Primus & The Chocolate Factory" across the US.
Primus & The Chocolate Factory Tour Dates
11/12 – Ruth Eckerd Hall – Clearwater, FL (Buy Tickets)
11/14 – Hard Rock Hotel & Casino – Biloxi, MS (Buy Tickets)
11/15 – ACL live at the Moody Theater – Austin, TX (Buy Tickets)
11/16 – The Majestic Theatre – Dallas, TX (Buy Tickets)
11/17 – Majestic Theatre – San Antonio, TX (Buy Tickets)
11/19 – Orpheum Theatre Phoenix – Phoenix, AZ SOLD OUT
11/21 – Orpheum Theatre LA – Los Angeles, CA SOLD OUT
11/22 – Fox Performing Arts Center – San Siego, CA (Buy Tickets)
11/23 – Center for the Arts – Riverside, CA (Buy Tickets)
12/31 – Fox Theater – Oakland, CA* (Buy Tickets)
1/2 – Arlene Schnitzer – Portland, OR (Buy Tickets)
1/3 – Paramount Theater – Seattle, WA (Buy Tickets)
*annual New Year's show, without Chocolate Factory