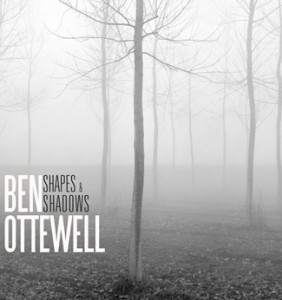 Ben Ottewell's solo debut "Shapes & Shadows" Out Now!
Ben Ottewell's (of Gomez) solo release, Shapes and Shadows is now available.  You can order from www.benottewell.com for the deluxe version and also from iTunes.
Shapes & Shadows is available on www.benottewell.com on CD and in MP3 or FLAC digital formats, and is available individually or bundled with an exclusive t-shirt and a five-track digital EP containing acoustic versions of four of the songs from the album plus a special cover song.
While Gomez is a three-singer band, Ottewell's powerful tenor has graced many fan favorites, from early songs like "Get Miles" and "Revolutionary Kind" to the more recent singles "How We Operate" and "See The World." In one early profile, Rolling Stone declared, "Gomez's not-so-secret weapon is Ben Ottewell. His deep, raspy voice is spine chilling… more like an otherworldly bluesman than a baby-faced Brit." And GQ once wrote, "Ottewell's voice is not of this world. It is a deep, reverent baritone, the kind of voice that shakes windows."
Ottewell collaborated with childhood friend Sam Genders, previously of Tunng, on the ideas that became Shapes & Shadows. As Ben explains, "Sam and I grew up together in a little village called Bonsall in Derbyshire and have been friends since childhood. I love his songwriting — the stuff he did with Tunng and The Accidental, particularly lyrically. We've been wanting to do this sort of thing for a while now. Having grown up together, there is a strong theme of looking back or recollecting."