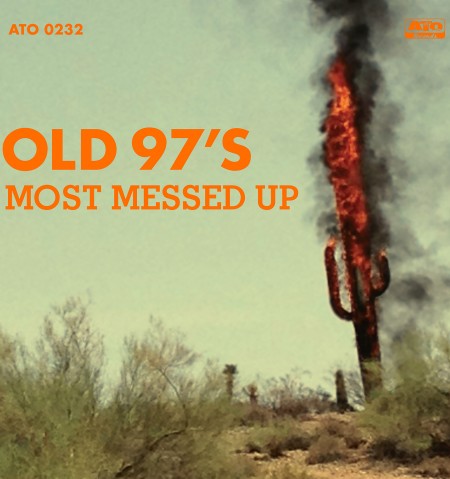 Old 97's Join ATO, Releasing 'Most Messed Up'
We are very happy to announce the addition of Old 97's to the ATO family! On April 29th, the band will release their new album and ATO debut, 'Most Messed Up' – a revealing, 12-track meditation on 20 years in music that finds them at their raucous, boozy best. It's "a rock opera, a way-off Broadway musical about a musician's life, loves and lubrication," says music critic Bill Flanagan. Recorded in Austin and produced by Salim Nourallah, 'Most Messed Up' also features guest appearances by Tommy Stinson (The Replacements, Guns N' Roses) and Jon Rauhouse (Neko Case) on lap-steel.
Titles like "Wasted," "Intervention," "Wheels Off," "Let's Get Drunk & Get It On," and "Most Messed Up" hint at the kind of narrators frontman Rhett Miller likes to inhabit – men who possess an appetite for indulgence and won't let a few bad decisions get in the way of a good story. The magic in Miller's songwriting lies in the depth that he lends his characters. Upon closer inspection, the hard partying and endless pursuit of a good time often reveals itself to be a Band-Aid covering up deeper wounds and emotional scars. "There's a lot of darkness hidden in this record," Miller explains.
The Old 97′s emerged from Dallas twenty years ago at the forefront of a musical movement blending rootsy, country-influenced songwriting with punk rock energy. 'Most Messed Up' follows their recent two-volume set, 'The Grand Theatre,' which found the band as "lifers writing for keeps," according to Rolling Stone, and their 2013 EP featuring Waylon Jennings, 'Old 97′s & Waylon Jennings.'
'Most Messed Up' Tracklist:
1. "Longer Than You've Been Alive"
2. "Give It Time"
3. "Let's Get Drunk & Get It On"
4. "This Is The Ballad"
5. "Wheels Off"
6. "Nashville"
7. "Wasted"
8. "Guadalajara"
9. "The Disconnect"
10. "The Ex Of All You See"
11. "Intervention"
12. "Most Messed Up"