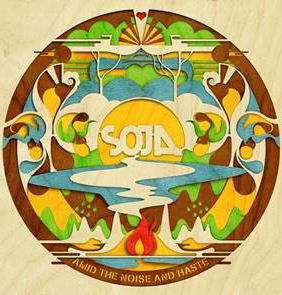 New SOJA Album "Amid the Noise and Haste" Out Today!
SOJA's fifth studio album "Amid the Noise and Haste" is now available. You can download it from iTunes and Amazon, or pick up a copy on translucent gold vinyl or CD at your local record store or online. Vinyl and CDs both come with a free digital download of the album.
Amid The Noise And Haste was produced by multiple GRAMMY award winning Jamaican producer Supa Dups (Bruno Mars, Eminem, Rihanna, John Legend) and is the first full-length album he has chosen to take on in his career. The new album is the follow up to critically acclaimed Strength To Survive which debuted in the Billboard Top 40. Amid The Noise And Haste features special guests including Michael Franti, Damian Marley, and Collie Buddz.
SOJA lead singer/guitarist Jacob Hemphill says, "The point of the album is reconnecting people to the power inside themselves, getting them to fall back in love with life again. Look around, take a deep breath. All the answers are there."
SOJA is celebrating the album tonight with a sold-out release show in their hometown of Washington, D.C., followed by stops in LA (also sold-out) and Brooklyn (where you can still snag one of a limited number of available tickets – which come with a free download of the album).
Watch the video for "Easier" below: