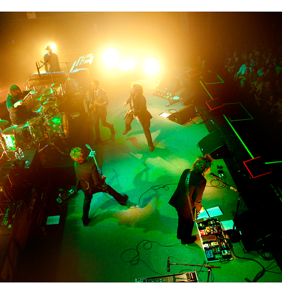 My Morning Jacket Gives Away Live Songs Leading Up to New Album Release
In celebration of My Morning Jacket's release of their sixth studio album Circuital, they are offering 6 weeks of free music. A song a week will be offered to fans: 5 songs from their monumental 5-night run at New York's Terminal 5 in October 2010 and a song off of their upcoming release on the sixth week.
Circuital was partially recorded in a gymnasium inside of a church in Louisville – where 3/5 of the band is originally from – while other tracks were recorded in Nashville. They laid down almost everything live and allowed room for spontaneity.
In addition to getting reacquainted with their roots, the guys opted for a loose and warm production style for the album. The result is yet another reinvention of their sound that both forges new ground and maintains the distinct spirit of My Morning Jacket's previous work.