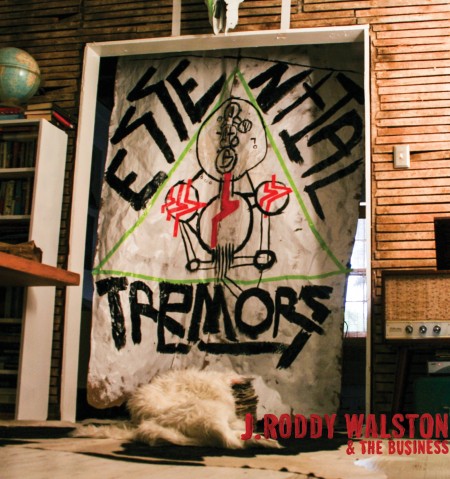 J. Roddy Walston & The Business' "Essential Tremors" Available Everywhere Today
The new album from J. Roddy Walston & The Bussines, Essential Tremors is now available everywhere.  Pick it up on iTunes / Amazon / Official Store
The third album from J. Roddy Walston & The Business, Essential Tremors borrows its name from a nervous-system disorder that's long plagued the band's frontman. "It's this condition where my hands shake―sometimes not at all, but sometimes pretty bad," says singer/pianist/guitarist Walston. "I've referenced it throughout all our records in some way, but it made sense to be more open about it on this album, which is partly about owning and embracing your weirdness instead of letting it hold you captive because you don't even want to talk about it.
For J. Roddy Walston & The Business―who formed in 2002 in Walston's hometown of Cleveland, Tennessee―embracing weirdness means a mumble-out-loud celebration of that great and terrible burden of being human. Forcing the oft-clashing worlds of art and rock-and-roll to make nice, the band (including guitarist/vocalist Billy Gordon, bassist/vocalist Logan Davis, and drummer Steve Colmus) deals in a scrappy yet sublime sound that honors both their Southern roots and punk spirit. On Essential Tremors, J. Roddy Walston & The Business builds off that formula with a mix of heavy hooks and elegant melodies revealing their affinity for artists as disparate as Led Zeppelin, pre-disco-era Bee Gees, The Replacements, Randy Newman, and the Southern soul outfits that once populated the Stax Records label.
Co-produced by Matt Wignall and Grammy-winning producer/engineer Mark Neill at Neill's own Soil of the South Studios (a Valdosta, Georgia-based facility where J. Roddy Walston & The Business were the first to ever record), the follow-up to 2010's much-acclaimed self-titled sophomore album also finds the band crafting lyrics that ultimately serve as a secret language to the initiated listener.
"It seems like most bands write for either the animal side of people or for the side that's more in tune with the spirit or even just the psyche, but we tend to just smash all those things together," says Walston. "It's like we're writing religious songs for the animal side. We've got songs that feel like party songs but if you look at it closer, it's something more cerebral. So for the people who want to dig in and connect all the weird crosswires, the song can turn into something else." And because J. Roddy Walston & The Business is practiced in the art of subversion, he adds, "these are songs you can get away with listening to around 'the straights.' The danger is in what lies behind the codes and the prose, and how gently they unravel once you've digested them."
Tour Dates
8/10/13-Davis, WV-Canaan Valley Resort
8/11/13-Wilmington, DE-World Café Live at the Queen
8/17/13- Portsmouth, NH- Redhook Ale Brewery
9/5/13-Cleveland, OH-Beachland Ballroom and Tavern
9/6/13-Indianapolis, IN-Deluxe
9/7/13-St Louis, MO-Loufest
9/9/13-Minneapolis, MN-7th Street Entry
9/10/13-Milwaukee, WI-Club Garibaldi's
9/11/13-Madison, WI-High Noon Saloon
9/12/13-Chicago, IL-Double Door
9/14/13-Cincinnati, OH- PNC Pavilion at Riverbend
9.20/13- Baltimore, MD- Rams Head Live
9/24/13- Pittsburgh, PA- Club Cafe
9/25/13-Louisville, KY- Waterfront Park
9/28/13- Kansas City, MO- Czar Bar
9/30/13-Denver, CO- Hi-Dive
10/1/13- Salt Lake City, UT- The State Room
10/3/13- Portland, OR- Mississippi Studios
10/5/13- Vancouver, BC, Canada- Biltmore Cabaret
10/7/13- Seattle, WA- Tractor Tavern
10/10/13- San Francisco, CA- The Independent
10/11/13- Los Angeles, CA- Troubadour
10/12/12- San Luis Obispo, CA- SLO Brewing Company
10/13/13- San Diego, CA- Soda Bar
10/15/13- Phoenix, AZ- Crescent Ballroom
10/18/13- Austin, TX- Stubbs Jr.