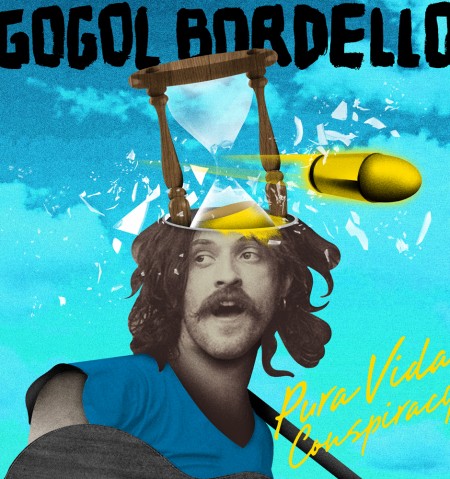 Gogol Bordello's "Pura Vida Conspiracy" Out Now!
Internationally renowned gypsy punk rock group Gogol Bordello return with their sixth full-length album Pura Vida Conspiracy out now.  Produced by Andrew Scheps, the new album was recorded in El Paso, Texas at Sonic Ranch Studios and is a powerful collection of 12 surging new songs.
The album's title is derived from a Spanish slang phrase for "pure life," which is a theme that resonates throughout the new material.  The disc's opener, "We Rise Again," introduces the album's limitless, all-embracing themes instantly, centered on a chorus of "Borders are scars on face of the planet." The new songs are infused with ideas rooted in Eastern philosophy but also search for a means of joining fragmented parts and persons, and of creating a worldwide consciousness.
"For me music is a way to explore human potential," Hutz says. "And that's my main interest in life – human potential. Everyone knows there's something inside of us that we're not using. How do we get it? How do we reach it?  Every single person knows that there's something and nobody knows what it is. So at one point I said to myself, I'm gonna get down and get it."
GOGOL BORDELLO TOUR DATES:
July 23, 2013 Brooklyn, NY   Music Hall of Williamsburg
July 25, 2013 Floyd, VA   FloydFest
July 26, 2013 Philadelphia, PA Theatre of the Living Arts
July 27, 2013 Bristow, VA   Jiffy Lube Live w/Dave Matthews Band
July 28, 2013 Pittsburgh, PA,   USA Stage AE- Indoor
July 30, 2013 Columbus, OH   The LC Indoor Pavilion
July 31, 2013 Urbana, IL   Canopy Club
August 2, 2013 Minneapolis, MN   Cabooze Outdoor Plaza
August 3, 2013 Bonner Springs, KS   Cricket Wireless Amphitheatre
August 5, 2013 Salt Lake City, UT In The Venue
August 7, 2013 Portland, OR   Roseland Theatre
August 8, 2013 – August 9, 2013 Seattle, WA   Neptune
August 10, 2013 Squamish, BC Squamish Valley Music Festival
August 12, 2013 Edmonton, AB Canada   Union Hall
August 13, 2013 Calgary, AB Canada   Flames Central
August 15, 2013 Morrison, CO   Red Rocks Amphitheatre w/ Queens of the Stone Age
August 16, 2013 Omaha, NE   Slowdown
August 19, 2013 – August 20, 2013 Toronto, ON Canada   Danforth Music Hall