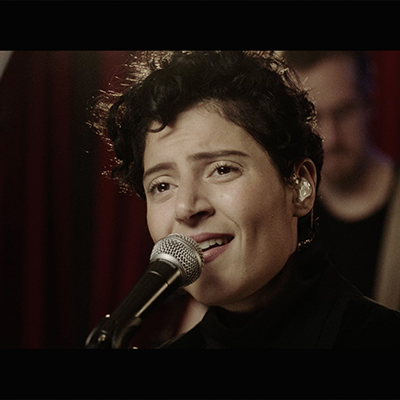 Emily King Unveils "Look At Me Now" Video Live From Apogee Studios
GRAMMY® nominated recording artist Emily King releases the video for "Look At Me Now" today, directed by George Mays and filmed at Apogee Studios in Los Angeles. 
Pre-Order Scenery HERE
Emily King will be releasing her upcoming album Scenery on February 1st via ATO Records.The album, produced by long time musical cohort Jeremy Most and mixed Tom Elmhirst (Adele, Amy Winehouse, David Bowie) was recorded in upstate New York, nestled in the Catskill Mountains, where Emily now makes her home after a lifetime of Lower East Side living.
Scenery follows the critically acclaimed album The Switch (2015) which included the hit "Distance" (more than 13 million streams). Following the album's release, King performed on The Daily Show with Trevor Noah, Conan, Prairie Home Companion, and toured with Alabama Shakes. This is her first release with ATO Records.
For Emily King, the pop-soul singer from New York City who spent her first three decades living on the same Midtown block, that notion was always easier said than done. A proud New Yorker, she loved her home, her family, her friends, and her life there. But last year, when she finally resolved to challenge herself by moving out of her comfort zone, positive changes started taking shape immediately. In Upstate New York, the fresh air and fresh mentality gave her the proper space and perspective to create what would become the album of her career. Its name: Scenery.
Without a doubt, King has carved out such a space for herself. With Scenery, she has challenged herself to create new roots, both in physical form as well as sonically. "For me, Scenery is about taking a chance and having an adventure, with themes of independence, confidence, and self-reliance throughout, and having a sense of freedom and self-worth," she says. "I'm really proud of this record because we took time to make sure it was right. We let time pass in between creating, recording, and listening, so that my true judgment can be revealed, ego goes away, and you see it for what it is. Sometimes you have blinders on because you want it to be good so badly. When I listen to this record there are no cringe-y moments. I'm proud of the process.
EMILY KING ON TOUR (tix HERE)
12/31/2018 – with Lake Street Drive at Boch Center Wang Theatre – Boston, MA
1/22/2019 – The Music Box – San Diego, CA
1/23/2019 – Sweetwater Music Hall – Mill Valley, CA
1/25/2019 – Doug Fir Lounge – Portland, OR
1/26/2019 – Neumos – Seattle, WA
1/27/2019 – Fortune Sound Club – Vancouver, BC
1/31/2019 – Fine Line – Minneapolis, MN
2/1/2019 – Schuba's Lincoln Hall – Chicago, IL
2/2/2019 – El Club – Detroit, MI
EUROPEAN DATES
2/26/2019 – Bush Hall – London
2/27/2019 – Badaboum – Paris
2/29/2019 – Paradiso Noord – Amsterdam
3/1/2019 – Maschinehaus – Berlin