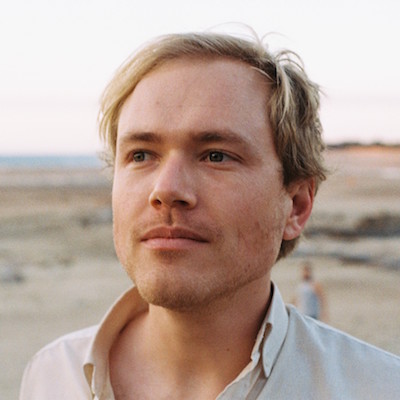 Listen to a new song "I Would" from Slow Dancer's album In A Mood (pre-order now)
Melbourne, Australia's Slow Dancer – the moniker of singer, songwriter and multi- instrumentalist Simon Okely – has shared his new track, "I Would" from his forthcoming sophomore album, In A Mood, out June 9th. Listen to the song via Nylon below, along with a live version of the track recorded and filmed at New Market Studios.
Pre-Order In A Mood: Official store / iTunes / Amazon
Slow Dancer also recently released a new video for his stand out single "It Goes" on. The social worker by day, soulful songbird by night said of the video:
"I wrote the treatment for the 'It Goes On video' with my ex lover of 14 years. We wanted to explore what the things we choose say about us. I have a theory about writing love songs; they are a curse; they inadvertently herald the end of the very relationship they here intended to praise. In this instance, I was painfully correct.
"We filmed my sections in the room I'd just moved into fresh after the breakup. I took only a suitcase of clothes, my grandmother's fan and my songwriting equipment. After the first edit of the video came back, I was embarrassed by how bare my room was in comparison to the couples'.  My cheap, new, self-constructed furniture was void of any real character. It's honest though – a guiding principal! – and now I'm kinda glad we captured that space at that time."
Watch the clip here:
Read Noisey's profile on Slow Dancer HERE and watch the official video for "Don't Believe":
"['Don't Believe' is a] soulful serenade to a detached lover, it blends laid-back drums, soft guitar and fuzzy, plucky synthesizers to make a smooth '70s sound." – NPR

"silky smooth…spindly and soulful" – Stereogum
"Okely's soulful, Stax-inflected vocals and stinging guitar work stand out in any crowd." – Billboard

"It's all happening for fresh-faced indie-R&B upstart Slow Dancer, so you'd better go ahead and get acquainted with his music now" – Paste
"This is old-school, baby-making stuff." – WFUV

""an album that seeps into your consciousness…In a Mood creates a blanket of sound, each layer blending smoothly, a sonic gradient of guitar, organ, strings, bass, and vocals." – Noisey
Simon Okely is lost in time. Or at least, his songs as Slow Dancer sound that way: warm, near-whispered indie-rock love letters to the 60s and 70s rhythm and blues records his parents would play on family car rides down Australia's winding west coast, heavy on nostalgia and even heavier on imagination. His 2014 debut Surrender was a melt-your-heart, Fleetwood Mac-with-Neil Young licks "pop postcard" from another time, another place. Now returning in 2017 with In A Mood, Okely is aiming even higher, featuring a "more expansive, more ambitious" sound that's "less about the stories we tell ourselves when in love and more about the moods that can come creeping over a relationship" at any time. It's no wonder his music is already striking a chord with fans of Mac DeMarco, Tobias Jesso Jr, Connan Mockasin and more, with his latest single accumulating over a quarter of a million Spotify streams in just a few weeks.
Okely grew up near West Australian city Perth, in a "tiny farming town" where, as a small kid, he would bring a toy ukulele to church every Sunday and strum along as though he was playing the hymns. After growing up and learning the guitar aged nine, he inherited his grandmother's piano and gradually became fascinated with the intense, intimate folk of Nick Drake, rhythm and blues vanguards Otis Redding and Wilson Pickett and his parents' favourite Van Morrison.
After moving to Melbourne in 2013, Okely began writing as Slow Dancer in 2014, naming the project after a lyric from a song on Surrender that was "essentially an instruction manual for slow dancing with someone who is experiencing apathy." Key to the Slow Dancer sound is the environment Okely writes and records in: alone, entirely at night, in a bedroom that "somehow crams in a drum kit, a piano, some guitars, and a bed," he laughs. "This has always been my journal, my love letter to the music I love. My concentration will always be on making the music that pleases me, and if it pleases other people too, that's also great. It's been a wonderful ride so far."
Simon Okely is lost in time. You should get lost in time with him.