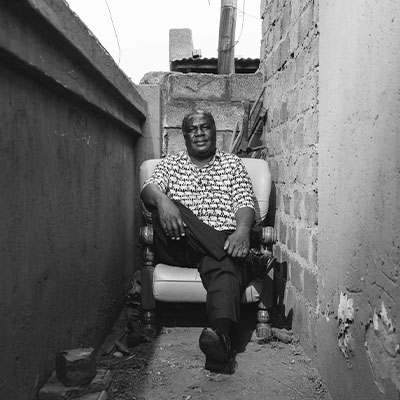 Order Vusi Mahlasela's latest album Sheeben Queen at the ATO Store.
---
Vusi Mahlasela is a world-renowned anti-apartheid activist and folk musician who has released nine beloved albums over the last two decades. He has collaborated with Dave Matthews, Béla Fleck, Taj Mahal, Warren Haynes, and Angelique Kidjo and shared stages across the world with Sting, Paul Simon, Dave Matthews Band, Josh Groban, Natalie Merchant, and more. In 1994, Mahlasela performed at Nelson Mandela's inauguration; he also served as an ambassador for Mandela's 46664 campaign, raising awareness about the HIV/AIDS crisis in South Africa. Mahlasela performed at the FIFA World Cup Kick Off concert in Soweto, South Africa in 2010, and in 2012 he was honored by SAMA (South African Music Awards) with a lifetime achievement award.  He holds honorary Doctorate degrees from both Rhodes University and the University of Kwazulu-Natal. South African President Ramaphosa recently recognized Vusi cultural contributions with a national "Ubuntu and Culture" award
The legendary activist and singer-songwriter known as "The Voice" in his native South Africa, will release a new live album of traditional township songs, Shebeen Queen, on August 14 . The "shebeen queen" of the title is Mahlasela's late grandmother Ida (whom he calls Magogo), who raised him in the township of Mamelodi (meaning "mother of melody"), where he still lives today. Following her husband's murder in 1961, Ida opened a shebeen (speakeasy) and began selling homebrewed beer (umqombothi) to make her living. Her space became known for its lively musical gatherings at night, where the townspeople would use buckets, tins, and plastic drums as instruments, andIngoma'buksu – music  rooted  in  Mbube culture, meaning "Songs of the Night" – would  be  celebrated  with  everyone singing together in full voices.  Ida became known as the "Shebeen Queen." As a boy, Mahlasela saw a man playing a guitar at one of these gatherings and was inspired to build his first guitar from fishing line and a cooking oil can.
Shebeen Queen is a celebration of the vibrant musical culture of his hometown, first encountered at Ida's shebeen. "Ida  was  a  strong  woman  and  was  respected  by  all  in  our  community," he says. "In  1976,  when  I  witnessed  the Soweto  Uprising,  my  political  education  began  and  I  realized  how  important music was. I began writing songs of justice, of freedom, of revolution, of love, of peace and of life. For these songs, I was arrested and thrown into solitary confinement. Magogo was always there for me –she fought for me, protected me and stood up for what was right. She was and still is my greatest hero. I decided I wanted to record some of these great Township songs in an effort to preserve this important music, so critical to our community and to our history. I wanted to honour this music and my grandmother by recording a live show, right here in Mamelodi at Magogo's house."