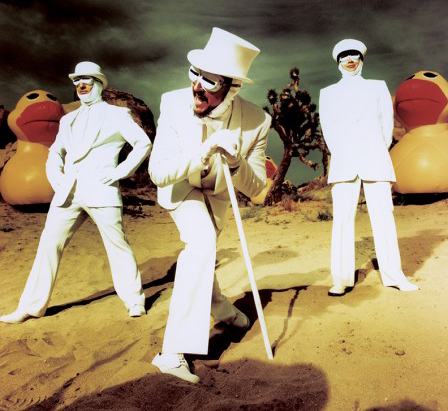 Get Primus' latest album Primus and the Chocolate Factory with the Fungi Assembly at the ATO Store.
---
Download EPK here (includes bio, album art, and 2 press photos). For more information or additional press materials, please contact kelly@atorecords.com.
---
Primus is back and stranger than ever with their delicious new studio album, Primus & The Chocolate Factory with The Fungi Ensemble, a tribute to the weird and wonderful world of Willy Wonka that hit shelves on October 21 and is available HERE now.
"I really wanted to pay homage to a film [1971's 'Willy Wonka & the Chocolate Factory,' starring Gene Wilder] that was very important to me as a kid and very influential to me musically," says Claypool. "So that's what we did. And as opposed to just going in and recording the songs and playing them the way they are in the film, we twisted them up a bit…twisted them up a lot."
Listen to Primus' rework of "Pure Imagination" below:
The LP is available on chocolate-colored vinyl, but if you're as lucky as Charlie Bucket or Veruca Salt, you just might score one of the five golden records that was scattered around the world on release day.