For more information or additional press materials, please contact kelly<at>atorecords.com
King Gizzard & The Lizard Wizard has surprise released their third album of 2017, Sketches of Brunswick East, a jazz and Tropicalia infused collaboration with Mild High Club.  The album is available now for digital download, and you can now pre-order it on high fidelity 180-gram black vinyl, limited edition cassette, or CD. All physical pre-orders placed through the ATO shop will receive a free Gizzard Gator sticker, and orders will arrive before the album is available in record stores or other third-party retailers.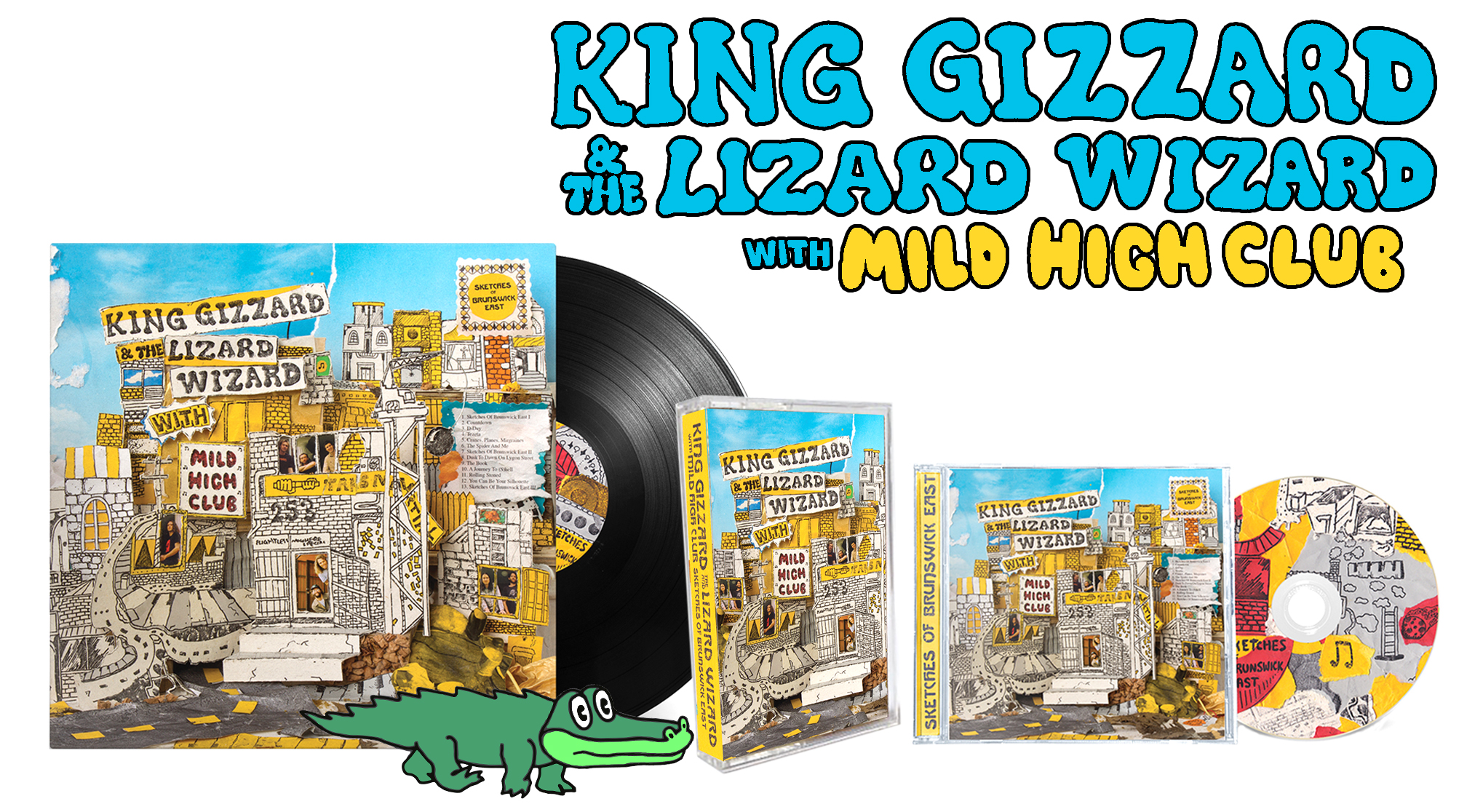 Sketches is a soothing balm of a record, a chance to get to know King Gizzard's sunny, playful side. Where previous albums have slipped down sonic worm-holes to explore distant galaxies, this one is an examination of (and homage to) the Melbourne suburb in which King Gizzard write and record in their own studio, and from where they run their planet-spanning psychedelic operation.
"We're always walking up and down the street all the time," described lead singer Stu Mackenzie. "Going to get coffee, lugging amps, just constantly wandering Lygon Street and spending a lot of time looking out into the distance, seeing the terrain change as new apartment buildings are erected, watching the cranes build bigger cranes. In that respect, perhaps it represents greater changes that are happening in the wider world, and this is our attempt to find beauty within a place that we spend so much time."
A knowing nod to Miles Davis's Sketches of Spain, this album also sees the band further exploring a Tropicalia element their music only ever previously hinted at. The band's various sketches about time and place were reworked and pieced together, akin to "sampling-culture, in which old ideas are reshaped and suddenly things make sense," explained Mackenzie. "It was like we were continually jamming with ourselves."
Sketches Of Brunswick East is the third of five projected albums to be released by King Gizzard in 2017. "We don't expect everyone to like everything that we release, but I hope people can view these five records as one body of work," says Stu of this grand creative undertaking. "They've been made at the same time, by the same people, in the same place, and they all overlap."
The band has a final run of US tour dates in 2017, beginning on September 23 in Michigan and ending at Joshua Tree, CA's psychedelic Desert Daze Music Festival in mid-October. All upcoming dates are listed below.
US TOUR DATES
9/23 – Kalamazoo, MI – Audiotree Music Festival
9/24 – Chicago, IL – Lincoln Hall #
9/25 – Chicago, IL – Lincoln Hall #
9/26 – Nashville, TN – Cannery Ballroom #
9/28 – New Orleans, LA – One Eyed Jack's
9/30 – Austin, TX – Mohawk Outside
10/1 – Dallas, TX – Trees
10/3 – Albuquerque, NM – Sister Bar
10/4 – Denver, CO – Ogden Theatre
10/5 – Boulder, CO – Fox Theatre %
10/6 – Salt Lake City, UT – Metro Music Hall %
10/7 – Boise, ID – Neurolux %
10/8 – Portland, OR – Crystal Ballroom %
10/9 – Vancouver, BC – Commodore Ballroom %
10/10 – Seattle, WA – Neptune Theatre %
10/12 – San Francisco, CA – The Fillmore %
10/13 – 10/15 – Joshua Tree, CA – Desert Daze 2017
# with Mild High Club
% with Tropical Fuck Storm
King Gizzard & the Lizard Wizard are: Stu Mackenzie (vocals/guitar/flute), Ambrose Kenny-Smith (harmonica/vocals), Cook Craig (guitar/vocals), Eric Moore (drums), Joey Walker (guitar), Lucas Skinner (bass) & Michael Cavanagh (drums).
Album discography: 12 Bar Bruise (2012), Eyes Like the Sky (2013), Float Along – Fill Your Lungs (2013), Oddments (2014), I'm In Your Mind Fuzz (2014), Quarters! (2015), Paper Mache Dream Balloon (2015), Nonagon Infinity (2016), Flying Microtonal Banana (2017), Murder of the Universe (2017).