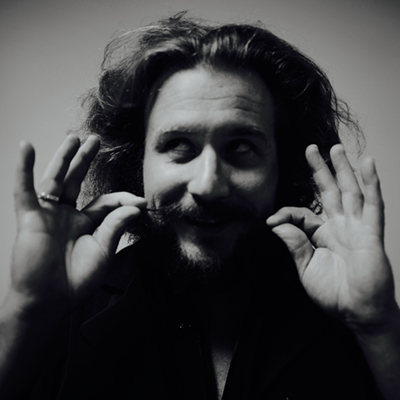 After releasing the politically charged solo album Eternally Even in 2016, My Morning Jacket front man Jim James returns with Tribute To 2, a collection of cover songs that reverberate with fresh meaning. Blurring the boundaries of time and genre, James interprets songs made famous by a wide variety of artists – ranging from early 20th century standards by Ray Noble and Al Bowlly ("Midnight, the Stars and You," "Love is the Sweetest Thing") and 1960's songs by Willie Nelson and Sonny & Cher to Emerson, Lake & Palmer's 1970 breakthrough hit "Lucky Man" and 1990's releases by Abbey Lincoln and Diane Izzo. Tribute To 2 will be released on December 8 via ATO Records
"'I Just Wasn't Made for These Times' is a song that has spoken to me very deeply from the first time I heard it," says Jim James. "So often, many of us just feel like we don't fit in, like somehow we were dropped into the wrong life at the wrong time. This song has such a beautiful way of resonating with that energy and relating to the pain of life on earth, but also offering hope and comfort in the beautiful sounds of togetherness."
James' path to recording "I Just Wasn't Made for These Times" began with another song – Isaac Hayes' take on "By the Time I Get to Phoenix" from Hayes' 1969 album, Hot Buttered Soul. While listening to the soul legend's 18+ minute version of the Jimmy Webb-penned song, James spontaneously began singing the lyrics to "I Just Wasn't Made for These Times."
"It gave me the idea to unite the music of these two different worlds," explains James. "I believe that if people really listened, they would love so much music outside of the genre they normally listen to – and that alone could start to unite people. I had just written liner notes for a re-release of Hot Buttered Soul and was lucky enough to get my hands on the multi-track recordings of the album. So, I ripped apart 'By the Time I Get to Phoenix' and put it back together again as 'I Just Wasn't Made for These Times.'"
---
James has spent the better part of almost two decades as the lead singer, songwriter and multi-instrumentalist of My Morning Jacket.  Hailed by The New York Times as "the new kings of expand-your-mind, religious-experience rock," the band has released seven studio albums with the last three – 2008's Evil Urges, 2011's Circuital and 2015's The Waterfall – each receiving GRAMMY® nominations for Best Alternative Album.
His 2013 debut solo album, Regions of Light and Sound of God, was named as one of the best albums of the year by numerous critics. Eternally Even followed in 2016 and debuted at No. 1 on Billboard's Alternative Albums chart. Rolling Stone described it as "nine flamboyantly spiritual songs wrapped in creamy electronics and set to funk and hip hop beats."
James has contributed to albums by such artists as the Roots, David Lynch, Brandi Carlile and John Fogerty and partnered with others on side projects such as New Multitudes, Monsters of Folk and T-Bone Burnett's The New Basement Tapes. He has produced Preservation Hall Jazz Band, Dean Wareham, Basia Bulat and Ray Lamontagne's most recent record Ouroboros. In 2016, he collaborated with NASA for the launch of their Juno Mission and with Sundance Film Festival on their "Freedom of Expression" event.